Pollards Coffee Sack Notice Board
Hi! Welcome back to our Pollards DIY 'How To' Guides! For this blog post we will be showing you the step by step guide to creating a notice board. For our homemade notice board, we are going to be using a coffee sack from our warehouse. All of our green beans arrive from the plantations sealed inside these hessian sacks. Hessian is a very popular trend right now and we think its a classic fabric to use for notice boards and other crafts. We empty the sacks of the green beans, roast them to our special recipes in our roastery, package and deliver our delicious coffee beans to our customers. As for the sacks, we like to play around with different and creative uses for them. If you have any ideas, please let us know and we might feature a blog post on it soon!
Shopping List
To create this homemade notice board yourself you will need:
1x Hessian coffee sack
Long roll of string or ribbon
Foam/Cork board
Scissors
Drawing Pins
Optional: Glue
Optional: extra wadding
A pencil or chalk – to outline
Instructions
Step One:
Place your hessian sack print-side down on a flat surface. Place your foam/cork board shape over the space where you want the print to be. Draw around the edge of the board.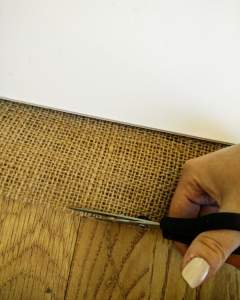 Step Two:
Remove the board and draw a second outline around the first adding roughly 1-2 inches to the shape. This will be the line to cut around.
Step Three:
Using the scissors, roughly cut around the outer edge of the last line drawn. Discarding the excess fabric to be used for other projects.
Step Four:
Lining the foam/cork board up, into the middle of the material, double check the print shown on the reverse is the desired pattern.
An optional step here would be to add a layer of wadding to give your notice board an extra thick base. To achieve this it is the same process, cut the wadding, leaving extra room around the edges to attach to the back of the board securely.
Step Five: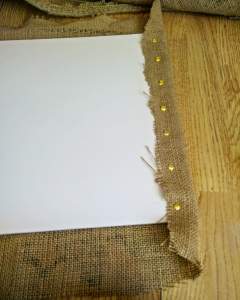 Tack the edges of the fabric to the back of the board, using the drawing pins. Or you can use glue if you wish. Carefully tightening the fabric to create a smooth front to your notice board.
Step Six:
Once the board is covered and tacked as desired. Flip the board over to double check you are happy before continuing to step 7.
Step Seven:
Attach one end of the string to the reverse of the board with a tack, or glue. Then carefully roll the string around the board to create a pattern. We chose a diamond effect as shown in the images. This doesn't need to be perfect, as you will be tacking/tucking items into the notice board during use. We kept our string relatively loose on this side. This enabled us to slide photos and notes into the notice board to be held by the string later.
You can also use ribbon if you wish for a different effect, it depends upon your personal preference.
Step Eight: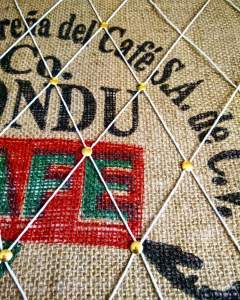 For added effect we used drawing pins to secure and decorate the string as shown. You can use any pins or tacks, we chose gold to match the colours in the room displayed. An alternative might also be accessories such as buttons, experiment with different looks depending on you're decor.
Step Nine:
Hang and enjoy using your new homemade coffee themed notice board!
Please tag us in your pictures and comment on here and social media if you have created your own! We would love to see how creative you can get with this easy step-by-step guide.
Other blogs you may enjoy: DIY COFFEE CANDLE, DIY COFFEE SOAP, and our POLLARDS BEAUTY HACKS blogs!