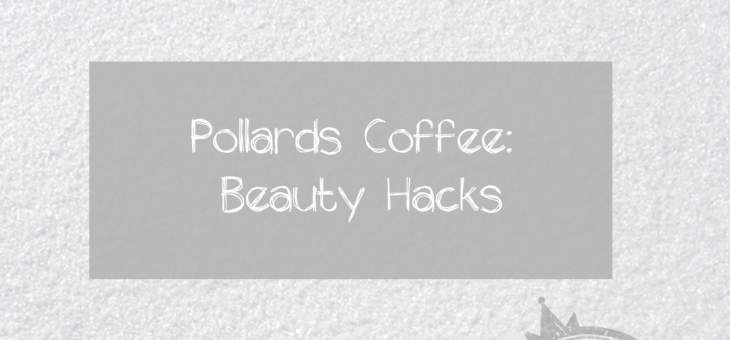 Coffee Based Beauty Hacks
Following our alternative uses for coffee blog post in June, we are proud to provide this new blog post on all things beauty related – with a coffee twist of course! In the previous blog post, we showed you 8 different and unusual uses for coffee. We listed hints and tips ranging from gardening and cleaning; to home decor and beauty. We loved writing these tips and tricks and decided to bring you a blog all about beauty. Let us know what you think!
FACIAL BEAUTY HACKS
Clean pores
Remove toxins and deep clean those pores with this easy and quick blend. Mixing the antioxidant-rich used coffee grounds with a fatty-acid rich olive oil will help rejuvenate healthy, glowing skin.
Simply mix two tablespoons of olive oil, with two tablespoons of repurposed coffee grounds to create this paste. Before you start, just make sure the coffee grounds are cool to the touch. To use, gently massage the blend onto your facial skin, avoiding the eye area. Wait 30 seconds and then remove with a clean wet washcloth. When you remove it, pat any remaining olive oil into the skin, to impart the moisture.
Any of Pollards used coffee grounds will do, the used coffee grounds would otherwise go into the bin or onto the compost heap. So a deep clean of the pores while having a latte is just what we needed. Home spa day!
Brighten the skin
Caffeine in coffee is known to increase circulation, when applied to the skin, this can lead to a much brighter look. This hack is to create a tightening face mask. Coffee is a great additive to homemade face masks for its skin tightening and stimulating properties.
To create this treatment you simply mix two parts of raw honey to one part coffee grounds. Leave the mixture on your skin for about twenty minutes, and then gently rinse it off. If you don't want to use honey, alternatively, you can use yogurt or mushed avocado instead.
Reduce redness and puffiness
Those used coffee grounds are absolutely perfect for using in this next beauty regime hack. Because coffee is a natural anti-inflammatory, they can reduce the appearance of puffy undereyes. To treat those bags, simply apply the cooled used coffee grounds upon the skin, leave for 20 minutes and rinse with cool water.
The caffeine in the coffee grounds will constrict the blood vessels, resulting in a reduction of under-eye swelling.
BODY Beauty hacks
Exfoliate the skin
The grainy texture of used coffee grounds makes them the perfect natural exfoliator. You can combine them with olive oil or water to form a paste, and then rub the mixture on your skin as you would a normal exfoliator. Water will work just fine but olive oil will impart some moisture and replenish some of those natural oils on the skin. Choose based on your skin type.
Target visible cellulite with a natural exfoliating scrub. Create a thick paste by mixing equal parts coffee grounds and coconut oil into your hand, and kneading it into cellulite-prone areas like the thighs and hips. The caffeine in the coffee grounds will dehydrate the skin and the circular motion used to apply the paste will stimulate blood flow, which may result in the appearance of firmer, less dimpled skin.
Again, this paste will work with just water and the coffee grounds, but we prefer to combine with a moisturising agent to stop the skin drying out too much.
Soothe chapped lips
Coffee grounds also make a great lip exfoliator, since they'll stimulate blood flow to the area (leading to redder lips) and scrub away those dead skin cells. For this hack you need to create a slightly more gentle scrub for the sensitive area. Simply rub your lips with some wet finally ground coffee for a minute or so a few times per week. For something a little smoother, try adding ½ teaspoon of honey to replenish.
Clean and exfoliate
Coffee soap: Coffee is a wonderful additive to homemade soaps. We have done a separate blog post to follow on this. We will show you how to create your very own Pollards coffee exfoliating soap at home yourself. This homemade soap will gently scrub, clean and moisturise while you shower.
Scrub
Callous scrub: One of the most popular uses for coffee is to use it in a basic, easy scrub. Similar process to the lip exfoliant, except when using for those more targeted areas, use a courser grind for a tougher scrub. Simply combine used coffee grounds with enough oil or water to form a paste, and scrub those callouses away.
CLEAN – Coffee hacks
Hand wash
Coffee is great for absorbing odours, and the rough texture of the grounds are useful for scrubbing. So apply and mix with water to scrub those troubled areas for a minute or so, and then rinse. This works for getting rid of odours such as garlic and onion when cooking. It can also be used for things such as scrubbing feet to reduce odour and clean the skin.
Hair & scalp hacks
Scalp treatment
Exfoliating your scalp regularly can get rid of dead skin cells, as well as clearing any product buildup. This results in lighter, shinier and more manageable hair. It will also encourage healthy hair growth. Simply massage your scalp with wet coffee grounds for a minute or so, then rinse. Follow with your usual shampoo and condition routine.
Hair colour
Coffee can even work as a temporary tint to enhance brown shades in hair. Coffee contains natural colorants and can temporarily dye hair slightly. To use, simply combine one part ground coffee with one part conditioner (a palmful of each will do), and spread it into your hair. Leave it for about 5-10 minutes, and then rinse. Please note that the colour will run if wet, like any temporary dye, so check the weather forecast!
Hair treatment
Simple hair mask: For adding shine and softness to hair, combine two parts olive oil with one part coffee powder. Apply the mixture to your hair and leave for 20-30 minutes, and then rinse. This hair mask will rejuvenate the hair, stimulate growth and treat dry or damaged hair.
Rinse for shine
If you don't want to deal with the mess created with the coffee grounds, you can still add some shine to your hair. Simply douse your hair with freshly brewed, strong and cool coffee while in the shower, leave for 10-15 minutes and then rinse. Unlike the other hacks, use this after you have shampooed and conditioned. The coffee will add shine and strengthen your hair.
Thanks for reading!
We hope you enjoyed this blog on Pollards coffee beauty hacks. Reading all about our helpful hints and tips on how to effectively use coffee in these alternative ways.