iced tea on the lawn? Well, many of you will know Pollards as coffee roasters and wholesale coffee suppliers, but we've also got a soft spot for tea! With summer well and truly here, many of you will be after something a little more refreshing than a hot cup of coffee. Pollards loose leaf teas can be used to create delicious iced drinks that can be enjoyed by your customers out in the coffee garden or as a quick and healthy take-out beverage. An unlimited range of flavours and combinations makes iced tea the true drink of summer that can be enjoyed by all.
How to make a simple summer iced tea:
For this blog we decided to make a Moroccan Mint and Lemon Iced Tea to show you how it's done and trust us, it's simple.
Iced tea ingredients:
Tea bags of your choice or loose tea leaves (we'll be using Pollards loose leaf Moroccan Mint tea), 1-2 tsp of tea per person
Sugar - 1 tsp per person (if required)
Water
Ice cubes
Mint leaves (optional)
Tea pot and strainer
Jugs
Sliced lemons
Instructions
Use a kettle to boil water
Leave to cool then for a moment then add the tea, some of the lemon and water into the teapot
Cover and let it stand for around 8-10 minutes. Stir frequently.
Once the tea has infused, strain out the tea into a jug and add sugar to taste
Stir until the sugar has dissolved and leave to cool at room temperature, then place in the refrigerator to cool completely, about 2 hours.
Add ice cubes, more lemon, stir and serve in a pitcher or decant into small glasses and add ice and lemon separately. You can also decorate further by adding mint leaves or other cocktail-esque accessories.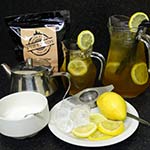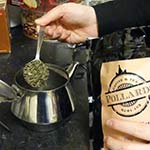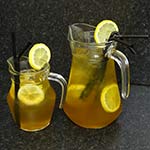 You can use this recipe as a guide for making any iced tea using Pollards wide range of products. Why not mix and match them to create an infinite number of flavour combinations. You can create a tea that is unique to your business, complimenting your own in-house style or brand,
just ask
our friendly staff for advice.
Contributor: Catherine Roys (Work Experience)