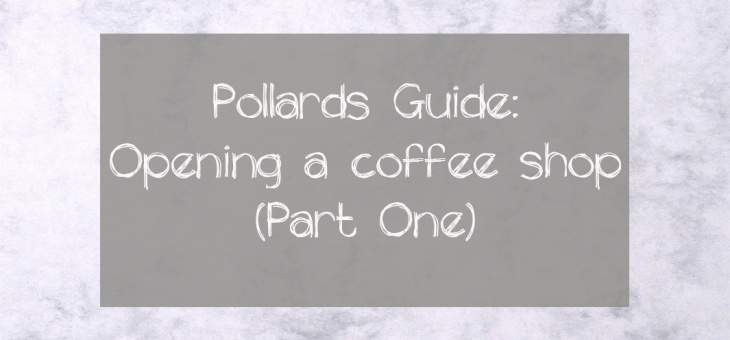 Hi! Welcome to our first guide on opening your own coffee shop! This is part of a series of blogs that will help you address some of the big decisions involved in opening and running a new startup cafe. Here at Pollards Coffee, we like to see new start ups thrive. If you are looking into opening a coffee shop of your very own and supply great tasting coffee and refreshments to customers then hopefully we can help! Opening a new coffee shop is a big step and although it is exciting, admittedly it can be tricky.
We like to work closely with our clients to help them create a successful coffee shop by giving advise and access to the latest great tasting coffee as well as all the equipment and training you could need. Over the years we have picked up plenty of tips and tricks to guide new start ups like yourself. To make things easy we have put together this free blog post so we can share some of those key tips with you. If you think we have missed anything, let us know in the comments or contact us directly, and we can add it on! This is a community after all.
Define and design your coffee shop
So you have decided to open a coffee shop… that is fantastic! We both know you will have a lot of decisions to make before you open those doors to the public. Cafes come in all shapes and sizes, and one of the first things you will need to decide will be – what kind of coffee shop you would like to create.
The first thing to consider when opening a coffee shop is what kind of atmosphere you want to portray. Here at Pollards we think that is one of the most important things. Potential coffee customers are attracted to two things; the environment you create, and the coffee.
Design your environment. Your cafe could be known for being; cosy, chic, sophisticated, simple, creative, artistic or something brand new altogether. There are so many choices and they can all turn into a successful start-up business and a thriving coffee shop.
There is no need to overcomplicate this, so our advise is to simply start with what defines you as a person and create a space where you will feel at home in, this will attract like-minded customers with whom you can connect and build relationships with. If you feel relaxed and comfortable in the cafe then others will too.
By defining your cafe, you commit to creating a space that reflects you and somewhere you will be happy and productive. This helps you set goals and can give you a unique competitive advantage over other local cafes. Everybody is different and therefore every cafe has its own personality.
Location Location Location
Choosing the right location is vital to a coffee shops' success. The location needs to suit the type of environment that you want to create, specifically, in a place where you think it would work. Your vision for the coffee shop needs to suit the location. For example, a large high end speciality coffee shop wouldn't necessarily work in a popular student demographic area. Or a small cosy cafe maybe wouldn't suit a location near a large sporting venue with heavy footfall. On the other hand, a small takeaway coffee shop would suit a commuter route. So when it comes to deciding where to place your new business, find somewhere that feels right and would suit your target demographic.
In order to help you make this decision, perhaps consider where the competition is and why they chose their locations. Do your research and don't be afraid to stand outside a potential location and ask questions to passers by or count the footfall in the area.
Pollards Tip: Check out an area a few times, consider different factors and ask yourself some key questions. It is important to be critical before you commit to a site. So don't rush.
What to look for..
When you scout locations some ideas to consider could be:
The time of day
Is it a weekend / school holiday
Are there any local events going on
If it is a student area, does the footfall decrease in the summer months?
Does the area have a popular market day or a prominent sporting club nearby?
Are the majority of people commuters?
Ask yourself why people are there and if your cafe will be flexible enough to accommodate that.
How much competition is there in the local area, is the market saturated?
A good location doesn't always necessarily mean the busiest high street with the highest rental value. A location with plenty of footfall is important but if you serve great specialist coffee then customers will be more willing to travel. So consider your target demographic and you could consider opening a coffee shop on a popular side street, for a more long term profitable space instead of the high street with all the Starbucks and Costa chains.
Outside space is a consideration too while searching for a suitable premises, you might decide you want a location with a courtyard or that you wish to have seating available on the busy street for people watching. The space you create will dictate the type of customer you attract. If you choose to have no seating at all and just be a takeaway coffee shop you will attract a different demographic to a cafe with a reading snug or a quiet workspace. If your target market is commuters, think small and efficient, if you want a 'home away from home' feel then consider spacious sofa space or a courtyard that is pet friendly.
Layout your shop right
Once you have the location decided, the next step is the coffee shop itself. The layout of your cafe is crucial to success. It takes careful consideration and can make a big impact to the success and experience of your cafe, if done correctly. This needs to be thought about before the shop opens.
We recommend to do research, visit other coffee shops and take note of the layouts that work best for them and trial layouts for yourself. This will help you to find the best solution before customers come through the door. This will reduce stress for you and help make that all important first impression when you open your doors on launch day.
Designing spaces to suit everyone gives your coffee shop an advantage by appealing to a variety of customers. Pollard's recommend to design spaces for groups as well as thin bar areas for solo drinkers, you can cater for small children by allowing room for storing pushchairs and you can provide comfortable lounge areas for relaxing. Don't forget about storage, office space and restrooms. Pollards Tip: ensure your layout meets regulations too, this could include hiring an architect to help.
Small changes can be the difference between good customer service and a great experience. When designing your cafe you will need to review everything and make a variety of decisions ranging from the ideal height of the work surface, to the distance between your barista and the customer. Ideally the barista needs everything at hand for precision and speed. Decide where to store your beans, how much storage space you need and the correct fridge placement to create the most efficient layout for your barista. We will be doing a full blog post on this in the future.
Pollards Tip: plan and trial layouts to ensure that you are opening a coffee shop that is efficient before launch day.
Environmental conditions
This stage links back to defining your coffee shop. This involves considering aspects such as if you will provide WiFi to encourage custom and business customers. Alternatively, you may choose to provide no WiFi and encourage an offline community space and encourage conversations. If so, you could provide board games or chess boards instead to encourage customer engagement. This depends on the atmosphere you wish to create.
Other considerations are things such as background music and the temperature controls in the shop. These are subtle changes to the environment which could affect the purchases and feel of your coffee shop. A warm temperature encourages customers to stay and take off their coats, but too warm is uncomfortable. Pollards recommend to invest in good air conditioning so you can control the environment.
Staff
Pollard's Staff Tip: Hire like-minded and committed staff, invest in training and spend time with your baristas.
When opening a coffee shop, remember that your staff are the face of your company when they serve customers, so make sure that you are aligned. Your business values and standards should be reflected in your staff. Remember, customer loyalty is built on consistency and an expectation. So spend time focusing on good customer service and great tasting coffee.
Customers like a familiar face, a good coffee shop is like going home. People trust in their favourite cafes knowing that staff are knowledgable and welcoming. At Pollards Coffee we can help you build your staff skills with our barista training sessions and we produce a variety of popular blends to stock in your cafe.
Remember that your staff now represent you, spend time training them and set standards. For example, teach them how you wish to address customers, how to handle a complaint, when to clean tables and how to handle cash. Your baristas need to know more than just how to make great tasting coffee. Health and safety training is critical too. Pollard's recommend to spend plenty of time with your staff and form a healthy working relationship, they seek guidance and not someone watching over them.
Don't forget about yourself too. As owner you should aim to be the head barista, be the best and allow this to set the standard. So invest in your staff but also in yourself. Stay on top of the trends, keep training and tasting new coffee. This will reflect in the business and keep the passion for you.
Product
Make sure you are selling the right product in your coffee shop. If you want to be a luxurious high end coffee retailer then sell good quality coffee, the same goes for those on a budget. Keep up on the latest trends and phases of coffee such as nitro and cold brew coffee. Speak to your coffee supplier and roaster to help you select the right products for your shop.