New Year, new you, new habits.
Welcome to 2018 everybody! Happy New Year ! This month Pollards are focusing on new beginnings (following the crowd, or trend setting – who knows). We have revamped our facility with a fresh lick of paint, we are all well rested, and are all set for a new year of roasting fabulous coffee for you folks. This year is going to be better than ever. Coming into the New Year, January is a time when resolutions are set, old habits are ditched and new ones created. This could be a new business plan, a personal 'get fit' routine or, a popular one, Dry January. So why is a coffee wholesaler talking about Dry January? We are all trying out new things this time of year, new recipes, new remedies, new places so why not find a new hangout to replace the pub? How about your coffee shop? So, with this in mind, we are bringing you our tips on how to attract new customers this month and why it can change your 2018.
Attraction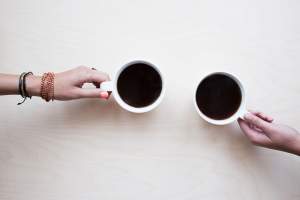 Firstly, you need to attract those customers to your coffee shop. Most people think that people stop shopping after Christmas, peak season is over for those little coffee shops. But in reality January sales are a huge draw into our towns for those with money burning a hole in their pocket. Pick up on this and keep the promotions rolling in your cafe. This will entice customers through your door.
Its hard to keep up the energy after Christmas is over, all those mince pies and Mum's famous Yorkshire puddings.. but new habits start with the new year and you want to lure those customers in before your competitor down the street does. So don't relax yet, hit the ground running and make an impact this January.
Trends
To make an impact target the trends when looking what products to place your promotions on. Everyone is on a health kick at this time of year. Encourage them by promoting your healthier drinks and snacks. December was all about the indulgent rich hot chocolates and a syrup filled caffeine fix. January is about skinny foam and black filter coffee. Switch up your offers based on what people want. Dry January has begun already, so tempt those drinkers to make the switch from lager to latte with tempting displays and a friendly smile. Use this trend to encourage people to change their habits and put coffee shops back on top.
Another trend this year is sustainability in coffee shops, people may have a resolution to only visit places encouraging a greener environment. Don't miss out and consider introducing discounts for reusable mugs at your coffee shop like some of the big names. You can also promote this on the premises and make sure people know about it. This might be a slightly bigger change to introduce but this trend is only getting bigger, so its worth it. Not only for your bottom line, but for the environment too! Coffee has a bad reputation when it comes to being green so lets try and change that.
Impress
Its not all about promotions. Make a big deal about experience too. You want your customers to feel welcome and at home in your coffee shop this season. Chances are, it could be their first visit. This is a great opportunity for you both, the customer might be looking for somewhere new to relax and socialise with friends, and you could gain a fantastic and loyal customer for 2018. First impressions count so make sure you provide for the new customers and look after them.
Going back to work or school is an annoyance for most people. Target that commuter traffic in your area and draw them in for a pick me up at the start, or end, of their day. Get your A-boards out and pour energy and life into someones day. They will thank you for it.
Bigger changes and long term goals
Consider a rebrand, everyone is making changes in January. So take the opportunity to revamp your style and attract those customers. There is no time like the present and we all feel motivated when January hits. You may look at rebranding, expanding or focusing on staff training and retention, whatever your goal, 2018 has already begun so start those changes today.
Pollards wishes you all a very happy and healthy 2018!